Sportsman's Rainy River
Cold Front Moving through Today, Warm Weather on its Way
Very cold today, but much warmer tomorrow, and for the most part the week ahead it looks like.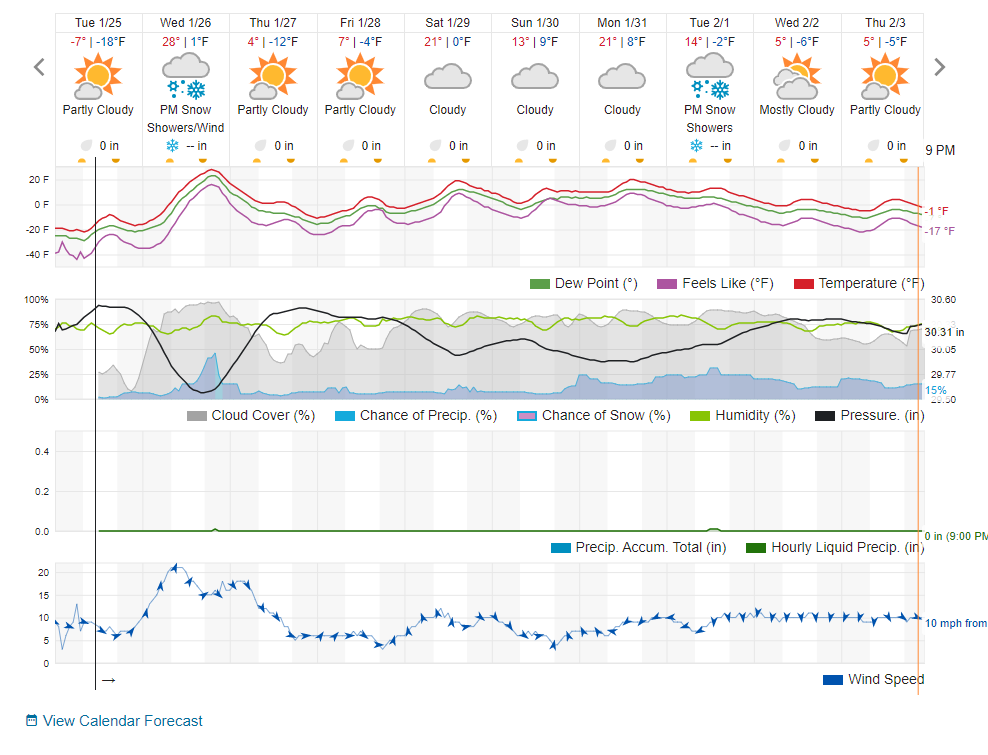 Guests have been catching a mix of walleyes, saugers, and a pike, sturgeon, perch, and eelpout once in a while. Plain single or treble hook or small spoon with a minnow on a dead stick continues to be hot. For jigging, a macho minnow, gold, pink and green jigs, and wonderbread glow jigging rap have been hot. We are fishing in varying depths, 26'-33'.
Ice Conditions
Currently, we have 25-29 inches of ice and about 14- 18 inches of snow in the areas we fish and travel.
Snowmobile Trails
Black stakes mark the trails from the south shore of the lake to Oak Island and NW Angle and south shore to Warroad as well as Wheeler's Point to Baudette. For more information about the trails and the latest on the land trails, check out Lake of the Wood's Drifters and the Northwest Angle Edge Riders Facebook pages
Spend Spring Break at the Lake
March openings are available! We ice fish through late March and great kids rates too!
Free lodging for kids 17 and younger when they stay with 2 adults in lodge rooms and fishing only $55 per kid per day plus tax includes a ride in the giant snowmobile (an adventure in itself!) to and from the house, bait, use of jig sticks or rods/reels, jigs and fish cleaning. Give us a jingle at 800-862-8602 or find us online here.
Oak Island
The Bite
Hello from Oak Island at the top of the Nation! Walleyes are being caught along with a few sauger and jumbo perch.Plain hook and chartreuse jigs tipped with a minnow or minnow head has been working well in the sandy bottom in 25-30 feet. The extreme cold blasts can be challenging for the bite but if you keep working at it, anglers are getting success. Warmer weather is coming tomorrow along with a more consistent temp for a stretch of days, that should help! The fish have been nibbling light rather than aggressive lately so watching electronics, using medium-light or medium action rods, trying a mix of dead sticking and jigging, and even some hard jigging smacking the bottom to really stir things up sometimes really can help. And don't forget the most important tip of all. Relax and have fun!
Ice
We now have 28-32 inches of ice and 10-13 inches of snow in the areas we fish and travel.
Many ways to get to the island.
The ice road from Young's Bay (approx 9 miles), Bombardier passenger service with Lake of the Woods Passenger Service by plane with Lake Country Air, snowmobile via the staked trails from Warroad and Baudette, and ice road from Warroad (40-45 miles). Click on the links to learn more and come experience Oak Island!
Winter Openings Available
Our 3 Bedroom Cedar cabin has openings on some weekends and midweek now through the end of the season. This cabin is just a 1/4 mile ice road jaunt, walk, or snowmobile ride away from the lodge. It is great for groups of 4-10 and has two bathrooms, a kitchen, a living area, and an awesome view. Our season runs through late March. We also have openings midweek February and March at our condos and villas. Fish house rentals are available for all accommodations. Our rentals include a warm and ready-to-go fish house, transportation to and from the fish house, bait, fish cleaning and we have some rods available too to use if you would like. Give us a call to book your Oak Island adventure at 800-772-8411 or click here to find us online.