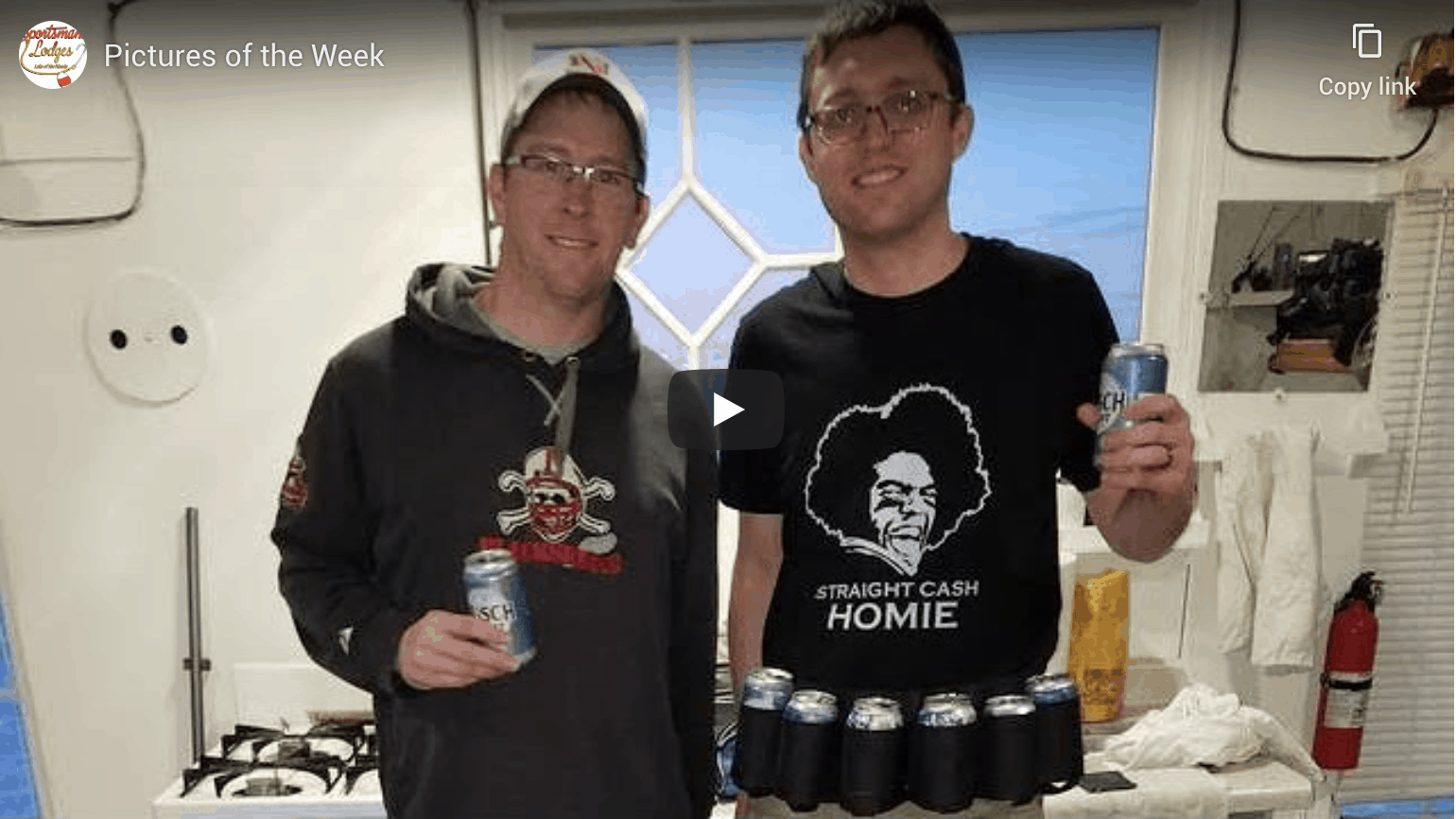 Sportsman's Lodge Rainy River
 2/11/2020
The latest on the Bite
It has been a sporadic bite this week. Runs here and there and some days better than others. Check out our pictures of the week!
We have had the best luck in 27'-32 in various areas anywhere from a 35-55 minute cruise across the pond in one of our giant snowmobiles past Pine Island. Anglers have been reeling in a mix of walleyes and saugers, the saugers more so, which is typical for this time of year. On cloudy days, glo pink, green and chartreuse jigs, and small lures have been popular. On sunny days, gold has been best all tipped with a minnow or minnow head. Some of the lunker walleyes this week have been caught on a plain hook, Royal Gold Digger lure (2 – 27" by the same guy!) and Oklahoma Dill Pickle lure, pink eye glow and minnow.
A mix of dead sticking and jigging have been the best approach.  Electronics help catch rates and zeroing in on the suspended fish. We see suspended fish on a regular basis. We have 30-32 inches of ice in the areas we fish and travel right now. The temp has fallen this week. We won't complain about that. Cold temps are making ice for March!
Unlike many lakes in the state, we are a border lake so we can have fish houses out through March 31 Mother Nature willing and in most years, she allows. So if you haven't had a chance to get out this year or want to get out a few more times, you still have time! Give us a jingle and let's go fishing!
Valentines Day Dinner Specials & Entertainment this Weekend
Bring your sweetie or great friends. Click here for all the details.
Dinner reservations suggested.
Snowmobile Trails
The Lake of the Wood's Drifters and the Northwest Angle Edge Riders take care of the trails in our area. Click the links for the most up to date information.
Fishing Packages available through March ~ Spend Spring Break at the Lake
We have openings midweek now through March and weekends available in March.
Kids ages 5-17 stay free with 2 adults in lodge rooms and fish for only $50 per person per day. Come for a few days.
Sportsman's Oak Island Lodge
2/11/2020
Fishing will keep the Doctor Away
At least we think so! 🙂 There is something about getting out, enjoying the awesome scenery, fresh cool air and good conversation with friends in the fish house that always seems to help the body. Pure and simple relaxation, good for the soul.
The best bite for a mix of walleyes and saugers this week has been in 24'-30' feet on the edge of reefs and on top of the sand.  Jigging a Buckshot lure, gold or pink jig or one of those "noisy" lures have been bringing in some nice fish. Vexilars help too! Deadstick with one rod and jig with another. Be sure that the rod you dead stick with you leave it alone and watch the bobber for the best success.
Ice Conditions
The average depth is 28-32 inches in the areas we fish and travel.
Trail Conditions
The Lake of the Wood's Drifters and the Northwest Angle Edge Riders take care of the trails in our area. Click the links for the most up to date information.
Ice Road from Young's Bay to Oak Island
The road is in good shape, follow the signs and come on out.
It is the sweetest week of them all
If you are in the area, come out for dinner. Or surprise your sweetie by planning a trip for a getaway this winter or upcoming summer.
Winter Openings
We still have some openings for this winter. Give us a call 800-772-8411 or connect with us online.