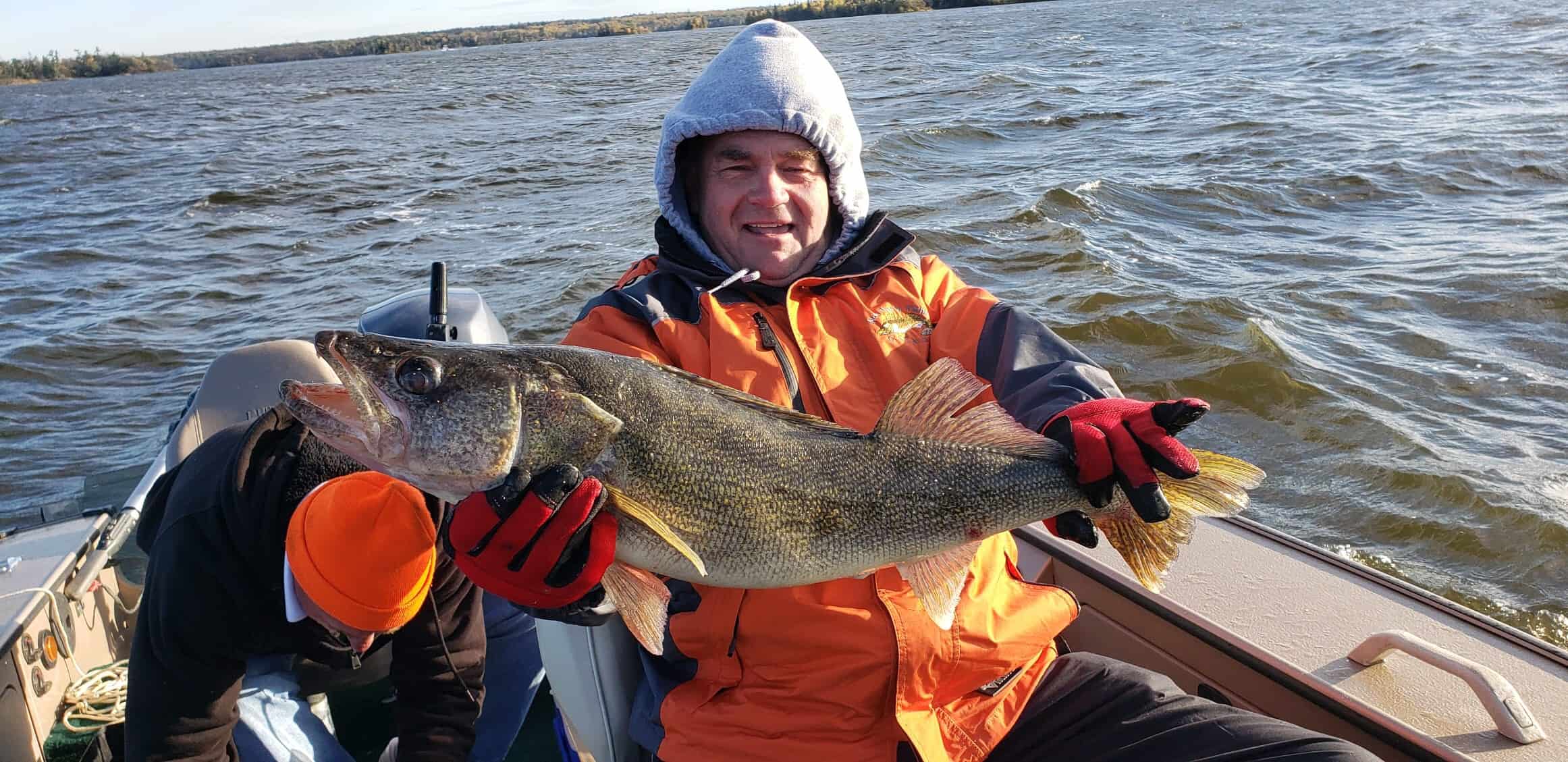 Lake of the Woods South Shore & Rainy River


Bring enough Bait!
Fishing continues to be hot, even as the weather fluctuates. The water temp has dropped to about 51 degrees, which has helped make the fish hungry! Guests and guides continue to jig with minnows and shiners. Any bright colored jig has been successful, such as gold, pink and orange. Water level is up and current is moving quick so heavier jigs of an ounce in size are best if you are planning on fishing in the river or bays. This time of year, the fish can be found in a wide range of depths, from 18 ft to 28 ft of water. There are a variety fishing spots that have been producing many walleyes, such as Four Mile Bay, 2 miles past Pine Island, Zippel Bay, Graceton Beach and even up by Knight and Bridges Islands. Pro tip of the week – bring enough bait for those hungry fish or take a guide!
Come for the fishing and stay for the party! Saturday, Oct 26 we will kick off our the festivities with 1/2 price select apps and $1 off domestic beers from 3pm-6pm. Then enjoy FREE witch's brew from 7pm-8pm, entertainment starts at 9 along with more great specials throughout the night and don't forget your costume! We will be giving away $200 cash for the best one! Book your lodging now $96 lodge rooms!! (Per night, plus tax and based on 2 adults)
There's still time to get in some end of season fishing before we make the switch to winter. Fall is always some of the best fishing of the year, come see why for yourself!
LODGING STARTING AT $43 PER PERSON PER NIGHT
Openings available October 9-16 and 21-November 30 at Rainy River and now through October 20, 2019 starting at $59 at Oak Island.
*Plus tax and based on double occupancy.UP TO 20% OFF SUMMER LODGING & GUIDED FISHING PACKAGES
Through Oct. 26, 2019 at Rainy River and up to 10% off through Oct. 20, 2019 at Oak Island.100% WALLEYE LIMIT GUARANTEE
Fish on one of our charter boats for a minimum of 2 full days. We guarantee you will take your limit of walleyes home with you or we will pay you $10 per walleye short of your limit. Fish eaten during your stay count towards your limit.
For more about all of our fall packages 
click here
.
Lake of the Woods Oak Island & the Northwest Angle
Hungry Walleyes
It has been a good bite this week. Water temps are in the lower 50's and upper 40's. Jig and minnow has been the hot approach to landing a nice stringer of walleyes. Gold, pink, orange and glow in the dark have been good colors. Points and shorelines in 12'-25' have been good spots. Crappie fishing continues to be hot and we don't expect that to slow anytime soon. Usually the cooler it gets, the better it gets. 20'-32' holes with structure using a jig and minnow works well. Muskies also active. Try some trolling in bays with a mix of rocks and weeds casting using heavy duty rods and reels with line up to 100 lb test, topwater baits, spinnerbaits and crankbaits. Lake of the Woods is home to thousands of bays and an abundantmuskie population.
Few More Weeks of Fall Fishing
Sportsman's Oak Island Lodge has openings now through Oct 20. 
Give us a jingle for one last soft water trip
!