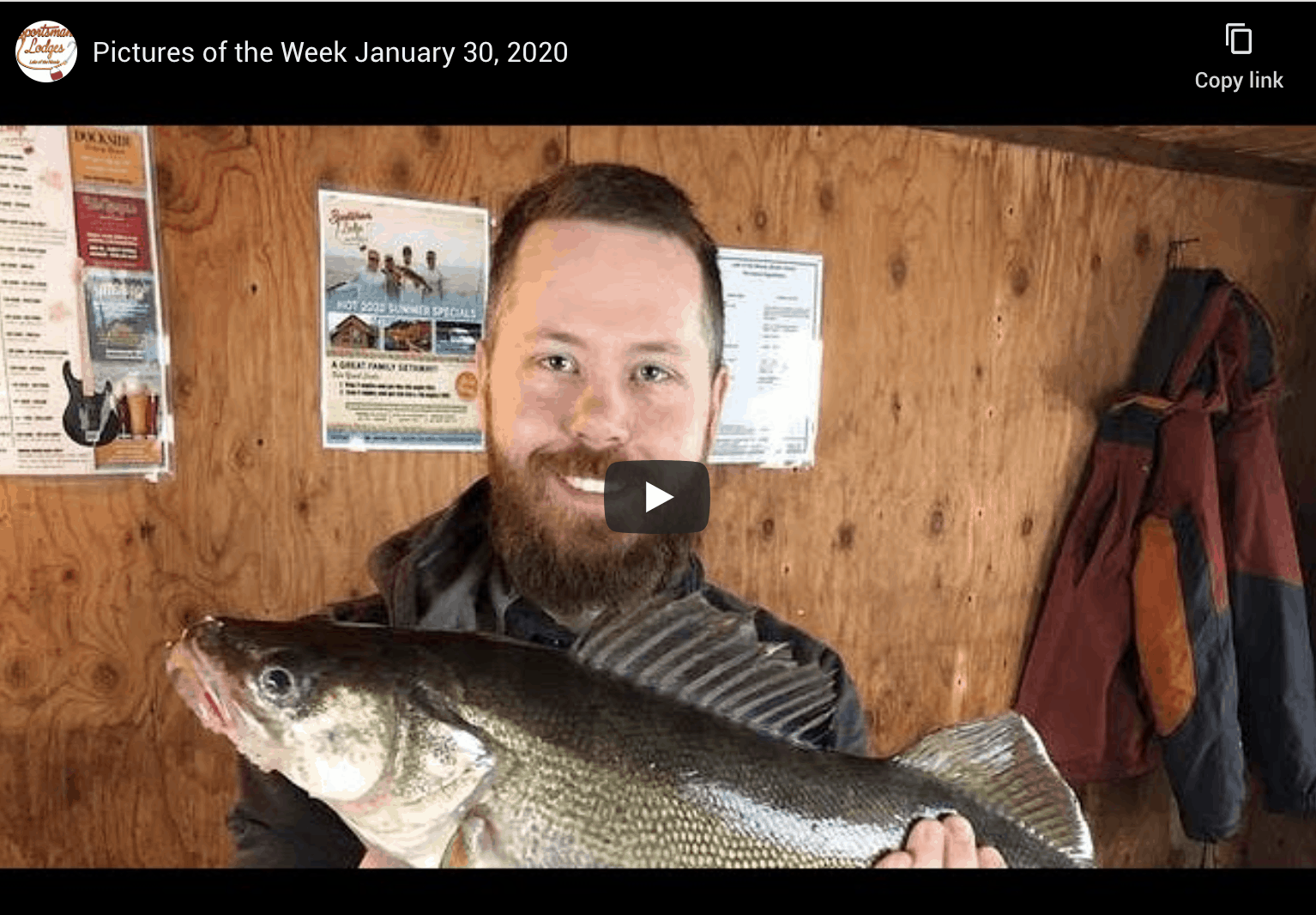 Sportsman's Lodge 
Another week of stable temps
We have had another week of stable temps this week.
For the most part, it has been highs in the twenties and teens at night, with little or minimal precipitation. Sounds like this same weather will continue for the week ahead. Great time to be out fishing!
The best bite lately has been found in 24-32 feet of water. Glo white has been the color of the week along with a close second, the good old Lake of the Woods gold or even a plain hook. A mix of dead sticking or jigging with a minnow has been the way to go. Anglers have been reeling in a walleye/sauger mix with occasional eelpout. Average walleye size has been 13"-15" with an occasional lunker. Two walleyes over 30" were caught this week! Check out the pics. A few pike have been caught too, one was 35". Electronic fish finders are recommended such as Marcums or Vexilars. Anglers who use them can't say enough about how they really help increase their catch rate. We have 2-3 feet of ice in the areas we fish and travel right now and houses spread out past Pine Island anywhere from a 15-minute bombardier ride to an hour. We are covering a lot of areas to stay on the best bite. We continue to have below-average winter snowfall compared to many parts of Minnesota, 6-15 inches of snow on average overall is on the ice.
Snowmobile Trail Report
The Lake of the Wood's Drifters and the Northwest Angle Edge Riders take care of the trails in our area. Click the links for more information.
Big Game Party this weekend and Live Entertainment continues through March
Before and after a day on the lake, stop in for food, drinks, pull tabs, games, a dip in the pool and entertainment! We serve breakfast, lunch, and dinner daily 6 am – 10 pm and cocktails until 1 am. Our daily happy hour runs from 3 pm-6 pm. $1 off domestic beer and rails as well as 1/2 price select apps. Nightly specials and Prime Rib on Saturdays in the dining room. This Sunday, our now 14 TV's will be on to showcase the big game and we have some fun giveaways and specials planned too. 100 Proof will be on stage Friday and Saturday! Lots going on, stop in.
Fishing Trips Available
Get out of the house and come have some fun! You still have time this winter and if soft water is more your style. Now is a good time to get those dates locked in. We have midweek ice fishing trips available now through the end of March and weekend trips available in March. Spring season will kick off early April in the Rainy River. Walleye season is open through April 14 and re-opens May 9. Sturgeon and pike season is hot in April. A couple of nights and days of ice fishing packages start at only $309 per person and April 1 our spring specials start $89-$99 night lodge rooms through May 20. Plus up to 20% off summer lodging and charter packages May 8-20. Check out our packages and give us a call 800-862-8602 or contact us online.
*Plus tax and based on double occupancy.
Sportsman's Oak Island Lodge
NW Angle & Islands
Good Fishing
Guests have been having good luck this week. Walleye, sauger, jumbo perch and a few nice 40"+ pike having been caught. We have had stable weather this week and more to come the week ahead the forecast says. We like that! The best walleye/sauger bite has been in 24'-28' on firm bottom off the edges of reefs using gold, pink, white and glow jigs. Rippin raps also popular as well as a plain hook with a little weight and a minnow head. Perch have been found a little deeper 28-30 again on hard bottom. Electronics help! We have a few to rent if you want to give one a try.
Ice Road
The ice road is open to vehicles from Young's Bay to Oak Island. Conditions are great!
Ice Conditions
We have over 2' of ice in the areas we fish and travel right now. Due to the rainy fall we had, the current is more aggressive than a normal year so if you venture off the beaten path be sure you know where you are going. Ice conditions vary. Always good to take a guide and check ice often.
Snowmobile Trail Report
The Lake of the Wood's Drifters and the Northwest Angle Edge Riders take care of the trails in our area. Click the links for more information.
Mark your calendars! We will be hosting the Northwest Angle Edge Riders Snowmobile Rally this year Saturday, Feb 29. This event is always a blast! Make plans to hit the trails. A trail ride is also scheduled for Friday. Click here for all the info.
Fishing trips available through March.
Head to the islands for a winter break!